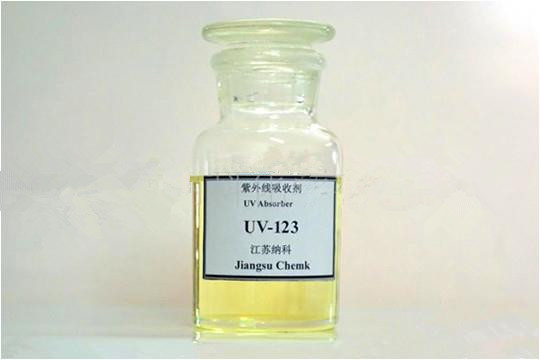 CHEMK LS-123
CHEMK LS-123 is a solvent-free hindered amine light stabilizer dispersion developed for waterborne coatings. Based on the NOR Hals LS-123, it is suited for coatings requiring a non-basic, no interacting radical scavenger light stabilizer type. UV--DW fulfils most stringent durability requirements of high performance industrial and decorative applications.
CHEMICAL STRUCTURES:

CAS No.:129757-67-1
Physical Properties:
Appearance: Clear, slightly yellow liquid
Viscosity at 20℃: 2900-3100mPa.s
Density at 20℃: 0.97 g/cm3
Solubility at 20℃(g/100g solvent): The solubility in common paint solvent is more than 50%.
Solubility: solubility in water is less than 0.01%
Application:
CHEMK LS-123 is recommended for clear and pigmented coatings:
● Automotive and general industrial paints
● Wood stains and coatings, waxes and wood care products
● Plastic coatings (films, sheets, containers, liners, tarpaulins, tiles
● OVP varnishes (graphic arts, prints, displays, signs, decals…)
● Architectural coatings (roof tiles, walls, floors etc…)
● Glass and ceramic coatings (architectural glazing, packaging…)
● Adhesives and bonding layers.
LS-123 is specially developed for high solid content acid-catalyzed automotive coatings and industrial coatings such as double coating metallic thermosetting acrylic metal flash systems or monolayer thermosetting acrylic varnishes and acid ester systems. Its excellent performance is reflected in the following applications:
● Alkyd resin / acrylate air-dry repair paint for automobile;
● Oxidized alkyd paints and varnishes;
● Double filling non-isocyanate coating Liquid
LS-123 is easily emulsified in waterborne coatings.
In the application of automotive coatings, LS-123 may be used in combination with UV-384-2, UV1130, UV-928 or UV-400, which can significantly improve the weathering resistance of the coatings and effectively prevent the gloss, crack, color change, foaming and delamination of the coatings. For double coating system, Light stabilizers can be used in primer and topcoat.
In the application of wood coatings, LS-123 may use combined with UV absorber like UV-384-2 or UV-1130 to achiever a good protective effect on air-dried alkyd paint. Light stabilizer mixtures can be added to film-forming paint and decorative paint.